Join Team Hyland's at
REVEL Mt. Charleston
Are you looking to run an amazing race with an amazing group of people?
Apply now to join Team Hyland's to run the REVEL Mt. Charleston Marathon for an awesome race weekend!  

Whether you are hoping to lock in a BQ, snag a new PR, or just looking for a great race to kick off your 2022 calendar, this race is perfect for you! The REVEL Mt Charleston Marathon is the fastest course in Nevada and a top Boston qualifying race. With a jaw dropping 5126' of descent, this entirely downhill course provides a serious PR opportunity. So, if you are ready to take on the challenge of this quad-crushing but epic course, and you don't want to go it alone, apply now to join Team Hyland's!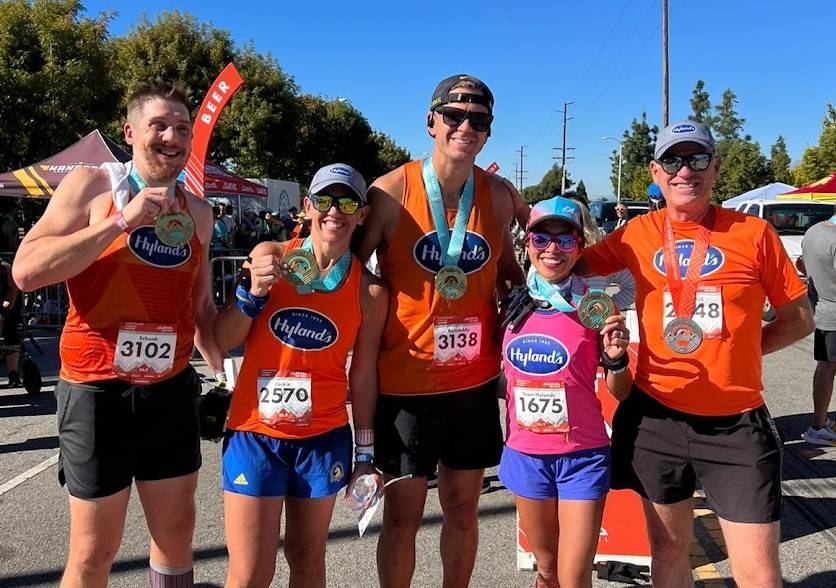 Why should I run with Hyland's?
Well, first of all, when you run with Team Hyland's you are truly joining a team, with benefits that extend beyond an awesome race weekend. Hyland's Leg Cramps is proud to help athletes achieve their goals on race day and every day, and as a member of the Hyland's Powered family, you'll gain access to a year-round supportive, dynamic group of athletes nationwide. And, once you've raced as a part of Team Hyland's in 2022, you'll be eligible to apply to become an Ambassador in 2023. We believe an experience is elevated when it is shared and celebrated with others!
All Team Hyland's members will receive:
A personalized training plan from Hyland's-own, USATF-certified running coach, Mike Ehredt,

 

Awesome custom Hyland's apparel,

 

And our Hyland's Powered sport pack, which includes your favorite pain relief and recovery products.

 
Select team members will also receive: 
A complimentary entry to run the Full Marathon distance event at the REVEL Mt. Charleston Marathon, and

Complimentary hotel accommodations for the night of Friday, April 1st

at the official Team Hyland's hotel.

 
What is expected of Team Hyland's runners at the REVEL Mt. Charleston Marathon? 
All team members should enthusiastically embrace being part of the Hyland's Team by: 
Training hard and having fun!

 

Participating whole-heartedly with the team, throughout the campaign and on race weekend:

 
Joining and engaging in the exclusive Hyland's Spring Marathons Facebook group,

 

Participating in race weekend official team activities,

 

And proudly racing in your Hyland's branded singlet.

 
Participating in our campaign documenting your marathon journey:

 
Partnering with our team to tell your training and race weekend story through photos, videos, and written pieces.

 

Sharing through your own social media.

 

Being mentally and physically prepared to complete the REVEL Mt. Charleston Marathon on April 2, 2022.

 
Deadline to apply is 11:59 PM PST on January 20, 2022.  Candidates will be notified of selection prior to January 31, 2022.

FAQs
Who's eligible?
To be considered for Team Hyland's, applicant must be a U.S. resident, 18 years of age or older and have previously completed a full distance marathon or at least three half-marathons.
I am already registered to run the REVEL Mt. Charleston Marathon; can I still run with Hyland's?
Yes! Runners who are already registered but want to be part of something bigger and experience the training, the race and the weekend with people who share their passion are encouraged to apply to join Team Hyland's. If accepted, you would receive the full Team Hyland's experience, including the Hyland's Powered apparel and products, as well as training from Mike Ehredt. However, you would not be eligible for travel reimbursement.
I have my own race day apparel; can I run with Hyland's but wear my own stuff?
No, wearing the official Hyland's Powered singlet during the event is a requirement for all Team Hyland's members.
What are Hyland's Leg Cramps?
Hyland's Leg Cramps has been America's #1 leg cramp relief solution for over twenty-five years. Taken at the first onset of symptoms, Hyland's delivers fast-acting relief of leg, calf and foot cramps when you need it most. The flavorless tablets dissolve quickly under your tongue, no water needed and no stomach discomfort to provide a convenient on-the-go application. As we like to say at Hyland's, Stop Your Cramp, Not Your Race.
* Claims based on traditional homeopathic practice, not accepted medical evidence. Not FDA evaluated.