Cell Salt #8 Mag Phos
Regular price
Sale price
$15.99 USD
Unit price
per
MONTHLY SUBSCRIPTION BENEFITS
Free shipping for subscription orders over $35 (after discount applied)
Easy cancellation
FIND IN STORE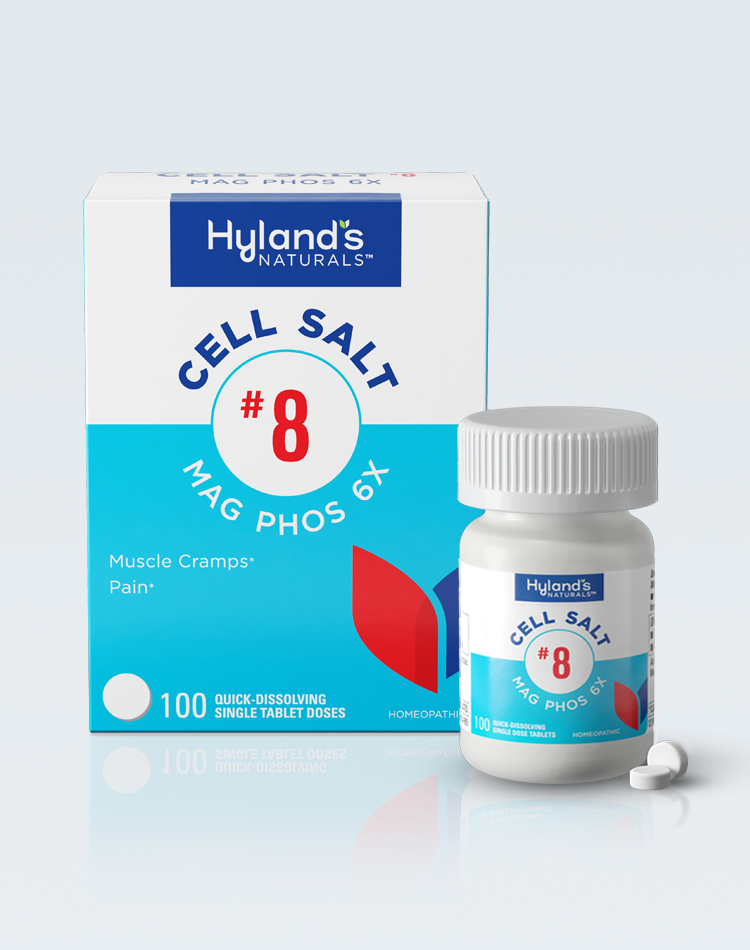 Find near you
Cell Salt #8 Mag Phos
FSA/HSA eligible
Homeopathic relief of Muscle Cramps and Pain.¹
DETAILS
INGREDIENTS
DIRECTIONS
Helps relieve muscle cramps and pain¹

Hyland's cell salt Mag. Phos. (Magnesia Phosphorica) relieves diverse cramps and cramping or radiating pain symptoms.¹ Leg cramps, muscle cramps, muscle tension and soreness, abdominal cramping, and menstrual cramps can all be relieved by this natural cell salt without harmful or groggy side effects.¹ For pain relief, Mag. Phos. specializes in cramping or radiating pain symptoms, and it is also an ideal remedy for headaches with darting pains.¹ In general, Mag. Phos. works best for symptoms that improve with heat and worsen with cold.¹ Tablets are flavorless and dissolve immediately without water for no upset stomach.

One of the 12 Mineral Homeopathic Cell Salts

Cell salts satisfy mineral imbalances in the body, stimulating the body's natural healing process. When your body lacks these important cell salts, you are more vulnerable to common health concerns. By replenishing them, your body is better prepared to treat illnesses and enjoy better overall wellness. Mag. Phos., the star of every cramp and muscle remedy, is the essential cell salt made from magnesium phosphate, the mineral compound needed to keep muscles in sync with our brains and nervous systems.¹

Active Ingredients & Purposes:

Magnesium Phosphoricum 6X HPUS: muscle cramps and pains

"HPUS" is the Homeopathic Pharmacopoeia of the United States

Inactive Ingredients:

Acacia Gum, Lactose.

100 Single Dose Tablets

Adults and Children 6 years and over: Dissolve 1 tablet under tongue 3 times per day.

500 Mini Tablets

Adults & Children ages 7-12: 4 tablets.

Children ages 2-6: 2 tablets.

Dissolve under tongue 3 times a day. Use more frequently (every 15 minutes for up to 8 doses) with acute conditions.

Warnings: Stop use and ask a doctor if: pain gets worse or lasts more than 7 days or worsen. new symptoms occur. redness or swelling is present or develops. If pregnant or breastfeeding, ask a health professional before use.

Keep out of reach of children.

Do not use if tamper-evident seal is broken or missing.