Join Team Hyland's at
the Belgian Waffle Ride!
Are you looking to ride in an amazing race with an amazing group of people? Apply now to join Team Hyland's in California or North Carolina for an awesome race weekend!  

What is the Belgian Waffle Ride? 
Created as an extremely challenging race in the spirit of the great European one-day Spring Classics, the Belgian Waffle Ride (BWR) returns to North County San Diego on May 1, 2022 and to the Blue Ridge Mountains of North Carolina on June 11, 2022. Riders at each location will be treated to a punishing course with plenty of climbs and extensive off-road sections and will be rewarded for their efforts with plenty of great beer and, of course, Belgian waffles!  
In both locations selected Team Hyland's riders will be participating in the shorter, yet dirtier, Belgian Wafer Ride, but don't be fooled into thinking that the shorter distance means this will be an easy day's ride. The Wafer is much harder than doing half of the Waffle. 
For the California event, the dirt-to-road ratio is much higher, and, at 75(ish) miles, the course is slightly over half the distance, with plenty of climbing and sand to make this a tough day on the bike… for anyone.

 

In North Carolina, the 77-mile Wafer course features rolling mountain passes, rough and rocky outcroppings, lake views, dense forests, rivers and waterfalls. Riders will get a bit of everything thrown at them with sections of hard-packed, loose, rocky, and gravel surfaces with 7000ft of climbing and almost 20 miles of off-pavement riding!

 
So, if you are ready to take on the challenge of one of these epic courses, and you don't want to go it alone, apply now to join Team Hyland's!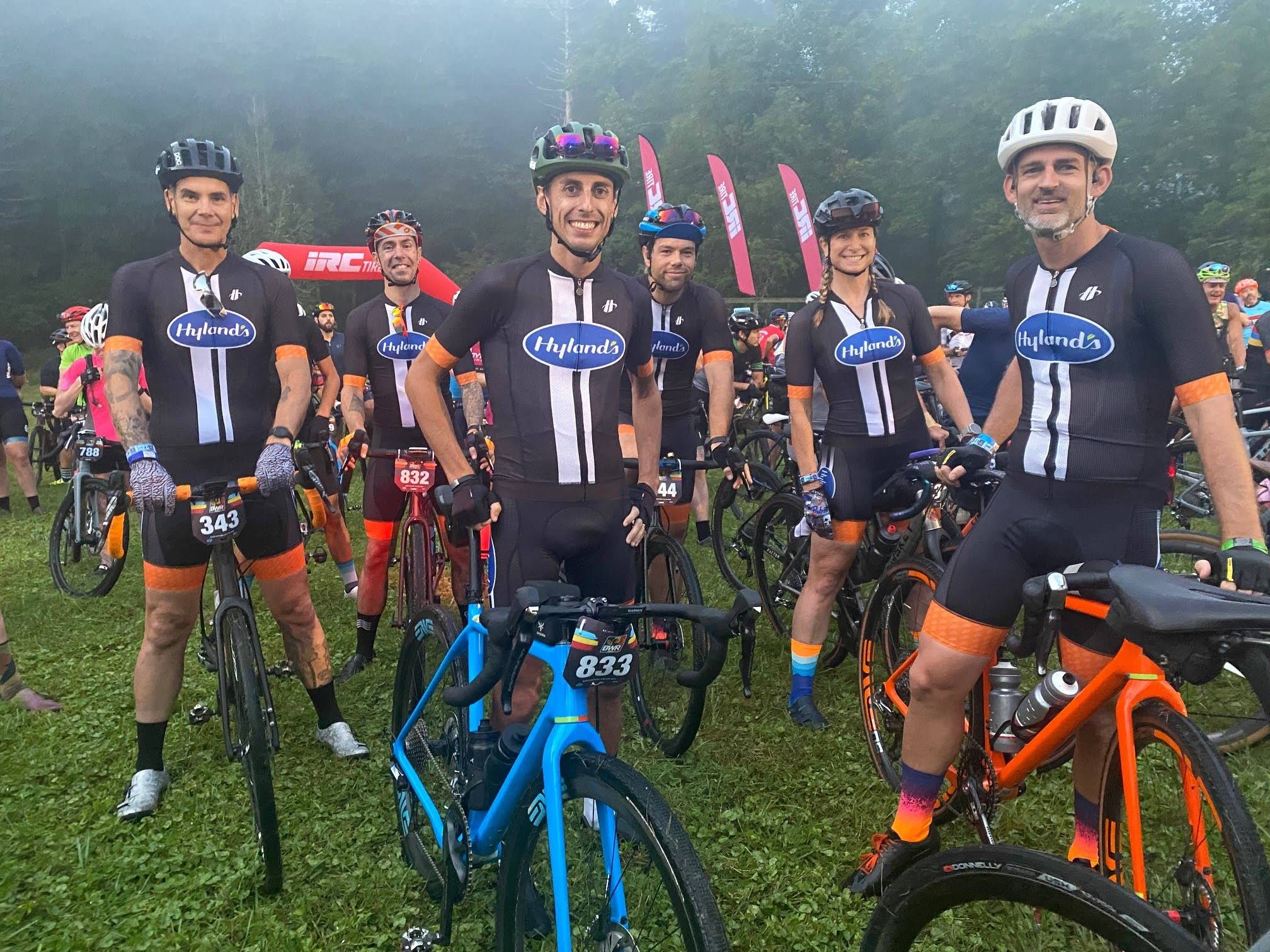 Why should I ride with Hyland's?
Well, first of all, when you ride with Team Hyland's you are truly joining a team, with benefits that extend beyond an awesome race weekend. As the Official Cramp Relief Sponsor of the Belgian Waffle Ride, Hyland's Leg Cramps is proud to help athletes achieve their goals on race day and every day, and as a member of the Hyland's Powered family, you'll gain access to a year-round supportive, dynamic group of athletes nationwide.  
If selected for our team, you will also receive:  
The highly coveted Hyland's Powered custom cycling kit (includes jersey & bibs);

Training guidance from Hyland's-own cycling guru Paul Thomas, an elite cycling champion, many times over; and

Our Hyland's Powered sport pack, which includes your favorite pain relief and recovery products.
Some team members will also receive: 
A complimentary entry to ride the Wafer distance event (The Belgian Waffle Rides have become the must-do gravel/road events in the USA, and entries sell out fast!);

 

Up to $200 in pre-approved reimbursed travel expenses.
Who's eligible?
To be considered for Team Hyland's, applicant must be a U.S. resident, 18 years of age or older with proven cycling experience.
What is expected of Team Hyland's cyclists at BWR? 
All team members should enthusiastically embrace being part of the Hyland's Team by: 
Training hard and having fun!

 

Participating whole-heartedly with the team, throughout the campaign and on race weekend:

 

Joining and engaging in the exclusive Hyland's BWR Facebook group,

Participating in race weekend official team activities,

 

And proudly racing in your Hyland's branded kit.

 

Participating in our campaign documenting your journey to BWR:

 

Partnering with our team to tell your training and race weekend story through photos, videos, and written pieces.

 

Sharing through your own social media.

Being mentally and physically prepared to complete BWR California on May 1, 2022 or BWR North Carolina on June 11, 2022.
Deadline to apply is 11:59 PM PST on Thursday, March 3, 2022.  Candidates will be notified of selection prior to March 9, 2022.

FAQs
I am already registered to ride BWR; can I still ride with Hyland's?
Yes! Cyclists who are already registered for BWR but want to be part of something bigger and experience the training, the race and the weekend with people who share their passion are encouraged to apply to join Team Hyland's. If accepted, you would receive the full Team Hyland's experience, including the Hyland's Powered Cycling Kit and training from Paul Thomas. However, you would not be eligible for travel reimbursement.  
I have my own cycling apparel; can I ride with Hyland's but wear my own stuff?
No, wearing the official Hyland's Powered cycling kit during the event is a requirement for all Team Hyland's members. Our kit is premium cycling apparel, manufactured by Hincapie Sportswear, exclusively for Hyland's.  
As many of you know, Hincapie Sportswear was founded in 2002 by 3x US road cycling champion George Hincapie and his brother Rich. One of America's most beloved cyclists, George completed 17 Tours De France while riding in support of champions Alberto Contador, Cadel Evans and Lance Armstrong. You can be sure this is the same quality apparel as worn by the pros! 
Can I apply for multiple BWR race locations? 
Yes, you can apply to join Team Hyland's for multiple BWR locations. Please note that complimentary bibs will only be awarded to selected riders for one location and travel expense reimbursement is capped at $200 per selected team member. Any expenses incurred traveling to or from the BWR event(s) will be the responsibility of the team member. 
I would like to ride the full Waffle distance rather than the Wafer, is that possible?
Yes. Because the Waffle course requires a significantly greater amount of training, and we want to ensure you would be well-equipped to finish the longer race, you would need to be approved to ride the Waffle course by Paul Thomas following a review with him of your experience and current fitness level. 
What are Hyland's Leg Cramps?
Hyland's Leg Cramps has been America's #1 leg cramp relief solution for over twenty-five years. Taken at the first onset of symptoms, Hyland's delivers fast-acting relief of leg, calf and foot cramps when you need it most. The flavorless tablets dissolve quickly under your tongue, no water needed and no stomach discomfort to provide a convenient on-the-go application. As we like to say at Hyland's, Stop Your Cramp, Not Your Race. Hyland's is the Official Cramp Relief Sponsor of the Belgian Waffle Ride.
* Claims based on traditional homeopathic practice, not accepted medical evidence. Not FDA evaluated.